Shopping Cart
Your Cart is Empty
There was an error with PayPal
Click here to try again
Thank you for your business!
You should be receiving an order confirmation from Paypal shortly.
Exit Shopping Cart
We Make Your Memories Last!
video production services
Greetings from the Ridge on an early Saturday morning. Wasn't planning to post again so quickly here on at the blog.
However, Mr. Video Editor supplied me with some screencaps today from the delightful production of that classic L Frank Baum tale, "The Wizard of Oz," as presented by the talented youngsters of the WO Parmer Drama Club at the end of the 2012-2013 school year. We are beginning work on the keepsake DVD for the event.
Benny and I shot this together during their final performance for some of the Greenville Elementary School students. Now kids will be kids, but I noticed the young players on stage were able to capture and keep the attention of their fellow students. Great job, guys!
The audience, which was also sprinkled with some proud parents, laughed and clapped enthusiastically, especially enjoying the raggedy dancing of the Scarecrow as he followed the Yellow Brick Road.
The two videographers were having quite an enjoyable time of it, too. Benny pronounced Brya Marlow's death scene as the Wicked Witch "simply fantastic." All those pigtailed Dorothys in blue gingham were adorable. Let's say we were uniformly charmed by the ensemble of young actors rotating the key roles during scene changes.
The performance featured those familiar Harold Arlen songs like "Somewhere Over the Rainbow" ably performed by Vivian Gates, Dorothy #1 and #6, "Ding Dong the Witch is Dead" and "We're Off to See the Wizard." allowing audience participation with the school choir. This videographer had to remind herself NOT to sing aloud. She's a sucker for classic movie tunes.
Here are some more screencaps from the performance. Kudos again to all the actors and actresses, the choir, and the combined talents of the teachers, sponsors and parents who created the sets and costumes, compiled music and kept "the show on the road."
Until next time, here's hoping life treats you well.
Angie
Production Assistant
Pecan Ridge Productions
Hello!
It's very early Friday morning and all is quiet here on Pecan Ridge.
Last night at this time I was working on editing the bonus feature for our Kindergarten Graduation DVD. I used footage Benny shot while the youngsters prepared to change into their pint-sized caps and gowns for the all-important diploma ceremony to round out their special night.
He told me later he had roamed around the two rooms being used for this undertaking, the "big" camera in hand, using his toe-to-toe walking technique whenever possible to help reduce camera shake.
The children weren't exactly sure who this tall stranger with the silly walk aiming the camera at them all was, and it showed in the initial footage.
They were rather quiet and a little guarded, eyes wide as they watched him, not quite sure whether or not they should smile.
"And then they started getting used to me," he said. "So I started flipping the screen around so they could see themselves. And they got excited."
And the smiles started coming, big, exuberant, natural smiles. Hands waved and cries of "Hi, Mama!" were heard. I fear a few mortarboards shook loose from the bobby pins carefully applied by their teachers (sorry, ladies!).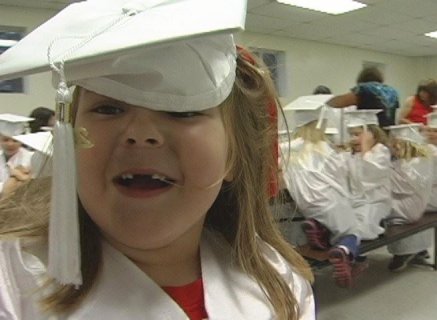 I have to say as many times as I looked at that footage while editing it, I never grew tired of it. Those lovely, sweet, mischievous, funny little faces totally disarmed me. This is our future, quiet and pensive sometimes, gregarious and silly at others.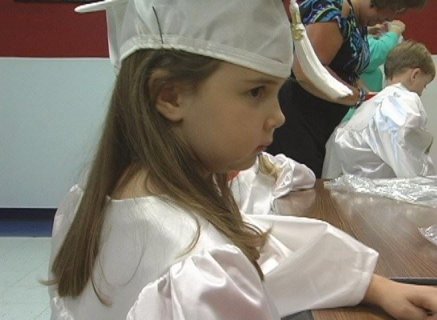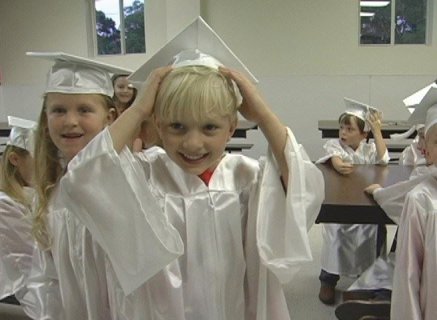 It's a beautiful bunch of children you've got there, FDA parents, not that I need to tell you that. But I am certain you won't mind me saying so.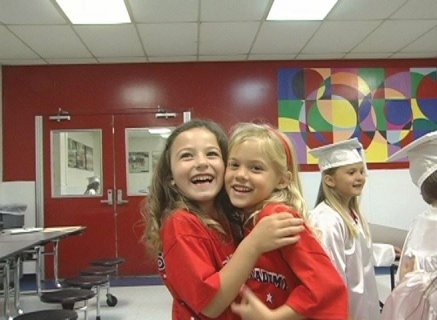 And it's been a joy editing that video. I showed it to Benny earlier tonight, with my captions in place, and he smiled and laughed a lot.
I certainly hope friends and family members of the littlest grads will enjoy it as much as we did.
(And you will be able to dance to it, too, by the way . .  .)
We've still got lots of editing to do-- finishing all the high school graduation events and their "bonus features," the delightful footage from the "Wizard of Oz" as presented by the WO Parmer Drama Club and another project or two. 
Video editing and production is work, yes--but there's something very satisfying about capturing the memories of your community and making them last.
I used to do that with words and still images.. Now I am doing it with moving images. The song, you might say, remains the same.
Have a wonderful weekend, everyone.
Angie
Production Assistant
Pecan Ridge Productions
Hello, everyone!
Here is the first post in our brand-new blog for our brand-new website for our business, Pecan Ridge Productions.  And here's part of the spot that earned the company its name. Our house sits on that ridge, in an old pecan orchard that was once part of what was my grandfather's, and then my daddy's farm here in eastern Butler County, Ala., some 12 miles from Greenville.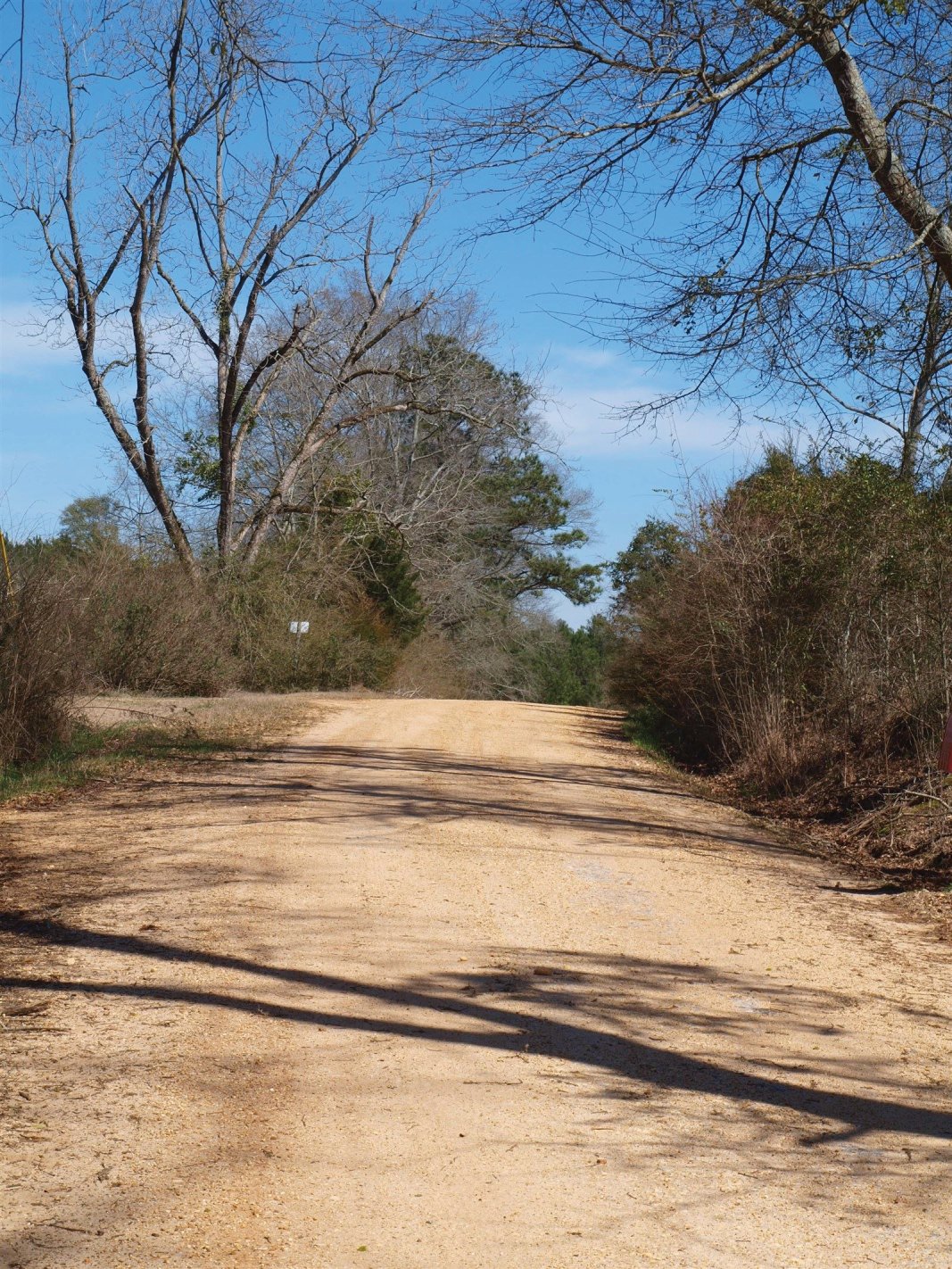 Pecan Ridge Productions isn't  quite brand-new--we've actually been producing videos for several months now.
You may have even seen us out and about with our video cameras, tripods and other paraphernalia at events such as the Butler County Relay For Life Beauty Pageant, The Greenville Area Arts Council's 2013 fundraiser, Putting on the Ritz, Miss Susan's School of Dance's Spring Recital or any of several graduation-related events at Fort Dale Academy.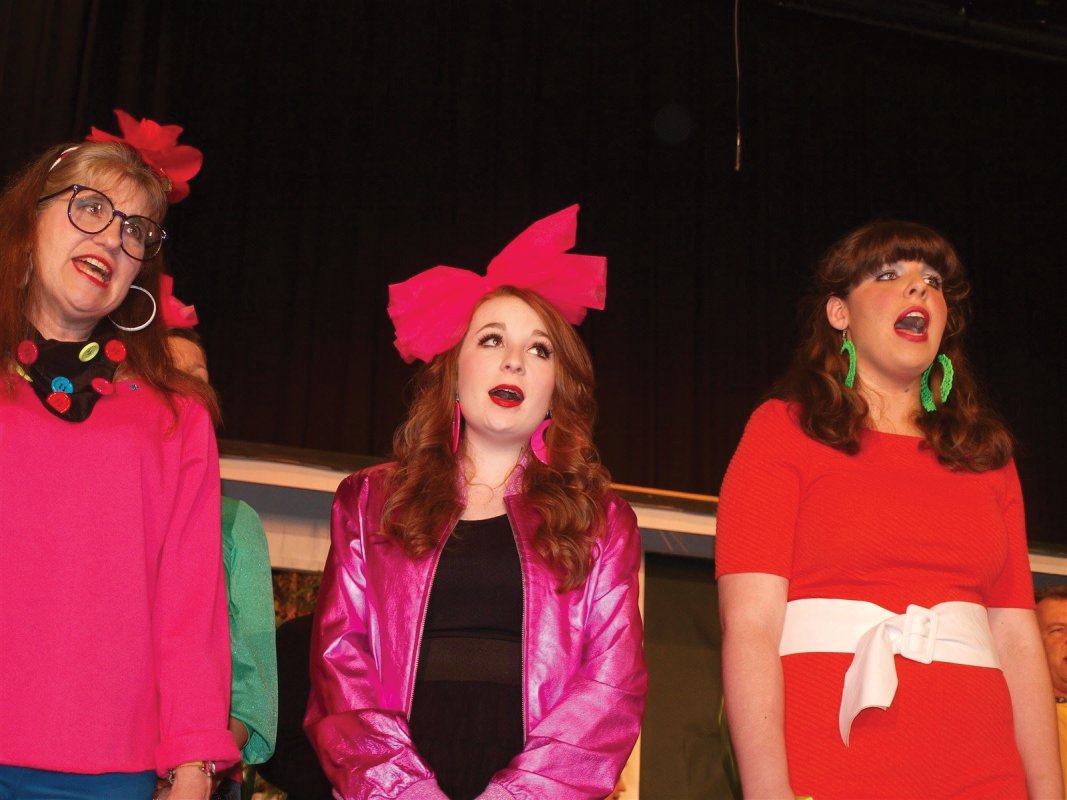 A still from Putting on the Ritz 2013.
PRP is actually a partnership between my husband, Benny Long, and Harry Manning, both of whom work at a Greenville area care dealership. Harry's been shooting videos for--well, decades, with hundreds, perhaps thousands of hours of footage of sporting events involving children and grandchildren. He's a very familiar face to the Fort Dale family.
Benny is a natural "techie" and has enjoyed videography as a hobby for several years. An earlier opening video he created for the GAAC fundraiser drew the attention of a Montgomery newspaper reporter and earned him an feature article in their paper. He's also produced television commercials for his dealership and shot and edited videos for class reunions, birthdays and holiday celebrations.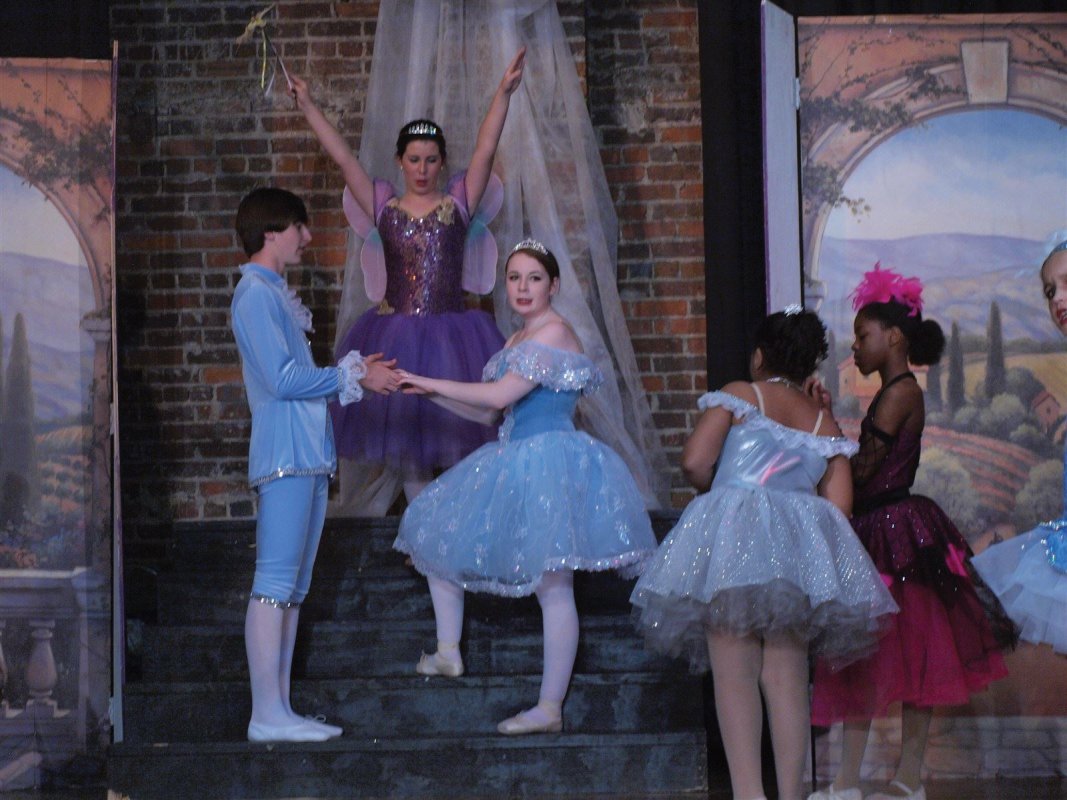 A still from Cinderella, part of Miss Susan's 2013 dance recital.
As for me, I serve as still photographer/videographer/fledgling editor and do PR, copy editing, typesetting and other tasks. I've been a photography enthusiastic since my teens and have a decade of photography and writing experience under my belt from my years as a print journalist. My background in art ed also helps me offer an "artistic eye."  Put us all together and I think we make a pretty talented team! :D
Modern technology is a wonderful thing and it allows us to snap photos with our phone and send to someone on the other side of the world in a drop of a hat. Now, as to whether the quality of said image is a "Keeper" is another thing entirely. And trying to shoot little Suzie's performance with your iPad or smartphone can just be downright awkward.
Our goal is take away the need for you, our client, to fumble with a viewfinder or looking at an LED screen, scrambling for buttons while the event you really just want to sit back and savor passes you by.  Let us do the work; you should be enjoying the moment! :D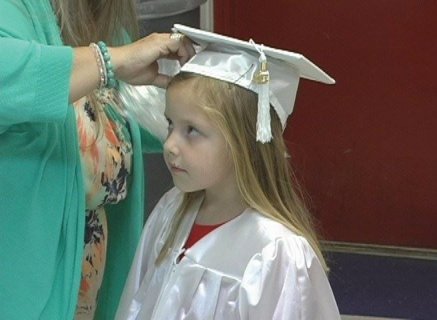 A screencapture from behind-the-scenes video footage of the Kindergarten graduation at FDA.
We shoot with multiple cameras, offering a variety of views and angles; we give you professional editing services and offer little bonuses on our DVDs that make them extra special. We take pride in our work and love knowing we are helping capture special moments in our community.
As we like to say, "We make your memories last."
Please take the time to look around our web site. Yes, it's still a work in progress, but we appreciate you stopping in from time to time and leaving comments.
And if you've purchased DVDs from us in the past and were happy with our work, we'd really love it if you left us a little testimonial. Word of mouth really means a lot, you know.
Thanks! Until we meet again, y'all!
Angie
Production Assistant
Pecan Ridge Productions
of greater Greenville, Alabama
/