Shopping Cart
Your Cart is Empty
There was an error with PayPal
Click here to try again
Thank you for your business!
You should be receiving an order confirmation from Paypal shortly.
Exit Shopping Cart
We Make Your Memories Last!
video production services
Greetings from Pecan Ridge, Y'all!
It's been very busy, which is one reason I haven't put up a recent blog post. We've got the FDA graduation package finished and ready for pickup at Greenville Motor Company. We've shot a wedding (Burkett-Harrell) and Benny has started editing that footage. And I am proud to announce the previously promised YouTube Channel for our video production company--PRPVideoServices--is now up and our first video is posted.
This music video is a different version to the one included with the Kindergarten graduation package--slightly longer, and with some different scenes. So you will see some things in this version you won't in the original, and vice-versa. What you WILL see in both is an abundance of cute kids full of excitement. 
 Please watch, and then "like," comment and subscribe at YT itself. Much appreciated! (You may need to adjust the setting to watch at higher resolution.)
Hello!
It's very early Friday morning and all is quiet here on Pecan Ridge.
Last night at this time I was working on editing the bonus feature for our Kindergarten Graduation DVD. I used footage Benny shot while the youngsters prepared to change into their pint-sized caps and gowns for the all-important diploma ceremony to round out their special night.
He told me later he had roamed around the two rooms being used for this undertaking, the "big" camera in hand, using his toe-to-toe walking technique whenever possible to help reduce camera shake.
The children weren't exactly sure who this tall stranger with the silly walk aiming the camera at them all was, and it showed in the initial footage.
They were rather quiet and a little guarded, eyes wide as they watched him, not quite sure whether or not they should smile.
"And then they started getting used to me," he said. "So I started flipping the screen around so they could see themselves. And they got excited."
And the smiles started coming, big, exuberant, natural smiles. Hands waved and cries of "Hi, Mama!" were heard. I fear a few mortarboards shook loose from the bobby pins carefully applied by their teachers (sorry, ladies!).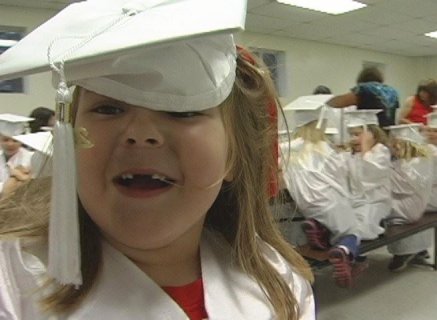 I have to say as many times as I looked at that footage while editing it, I never grew tired of it. Those lovely, sweet, mischievous, funny little faces totally disarmed me. This is our future, quiet and pensive sometimes, gregarious and silly at others.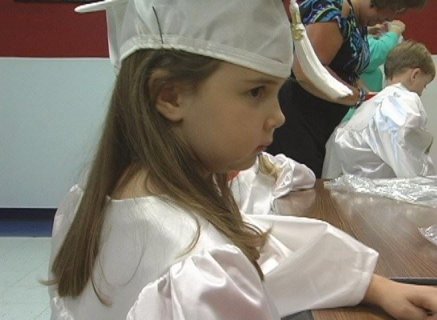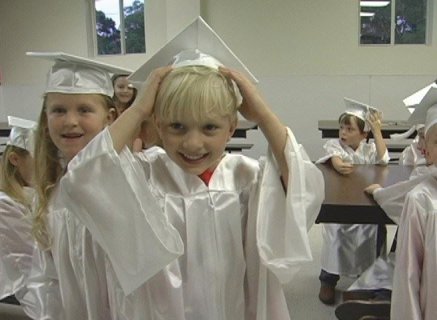 It's a beautiful bunch of children you've got there, FDA parents, not that I need to tell you that. But I am certain you won't mind me saying so.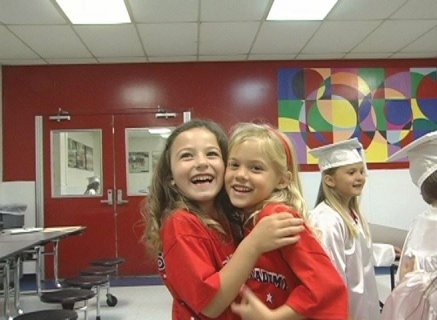 And it's been a joy editing that video. I showed it to Benny earlier tonight, with my captions in place, and he smiled and laughed a lot.
I certainly hope friends and family members of the littlest grads will enjoy it as much as we did.
(And you will be able to dance to it, too, by the way . .  .)
We've still got lots of editing to do-- finishing all the high school graduation events and their "bonus features," the delightful footage from the "Wizard of Oz" as presented by the WO Parmer Drama Club and another project or two. 
Video editing and production is work, yes--but there's something very satisfying about capturing the memories of your community and making them last.
I used to do that with words and still images.. Now I am doing it with moving images. The song, you might say, remains the same.
Have a wonderful weekend, everyone.
Angie
Production Assistant
Pecan Ridge Productions
/